Cherry Vertical Display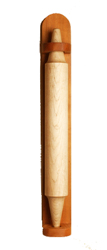 Shown here: Modern Rolling Pin with Cherry Vertical Display

click image to enlarge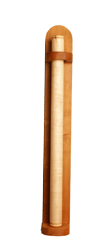 Shown here: Thin Column Rolling Pin with Cherry Vertical Display

click image to enlarge
Please email your display pictures to: vermontrollingpins@gmail.co
This cherry vertical display hangs up on a wall. Find a stud and secure it with one nail. It makes a fashion statement in any kitchen or dining room. It can be country or modern. It holds three of our Vermont Rolling Pins: our French, our Thin Column, and our Modern in any wood selection. Hang your Vermont Rolling Pin up to show as art and then take it down to create art in your kitchen by making pizza, pasta, or pie. It is an all-around delicious display!
When you order a Vermont Rolling Pin at the same time as you order a stand, click special package price and receive $10 off.
Cost $35
Special package price $25
Engraved Name Plate
Example write line 1 and line 2 before your info.

Line 1: Cyndi Freeman
Line 2: Culinary Institute
Engraved Plate $10.00